On March 16, 2012 I had the distinct pleasure of addressing a wonderful group at the Herzstein Memorial Museum in Clayton, NM. I was invited by museum director Victoria Baker to speak on Seton. My adventures earlier that day included touring several sites along the Corrumpa River with Victoria's husband Rick, a rancher whose family has lived in Union County since 1910.  Joining the backcountry tour was writer/photographer Evan Davison, a Kansan who is an aficionado of New Mexican history and culture; and also Seneca the ranch dog. The parts of the Corrumpa River we saw (without running water due to the drought) ranged from sand and gravel cañons to wetlands to cottonwood forest. We traveled through areas familiar to Lobo, Blanca, and Seton still so remote that a local guide is essential.
I usually talk to groups using limited notes and that evening was no exception. My comments were not recorded, but I emphasized Seton's connection to northeastern New Mexico. (This is also covered in my book, Ernest Thompson Seton, the Life and Legacy of an Artist and Conservationist.)
For visitors and residents alike, here is something of importance to note. Two major social movements of the twentieth century had their origins, at least in part, in Union County, New Mexico. This is not well known but should be celebrated. During the slightly less than three months Seton spent in and around Clayton, he came up with two vitally important ideas as well as several more decisions of great personal importance.
First, as he added to his knowledge as a naturalist by making a close examination of Southwestern ecology, he came to believe it was his destiny to introduce others to the glories of wild nature. As an educator, he would develop concepts for outdoor youth education that led to several important developments including foundational principles for what became the worldwide Boy Scout movement.
Secondly, even as he was killing wolves and coyotes – acknowledging the economic damage that predators could cause ranchers – he also felt there was a countervailing need for preserving our wild nature heritage. This included the preservation for big game species and, as well, predators such as wolves. He was the first person to popularize wildlife conservation on a mass scale. His work complemented the activities of John Muir and Theodore Roosevelt in land conservation.
I have written in my book about the importance of these movements, both of which went global. But here I want to emphasize that Seton's stunningly important accomplishments came about as a result of the influence of the people, landscape, and wildlife of Clayton and Union County. That is, both the Scouting and wildlife conservation movements came about directly because of his time in New Mexico – not from the intellectuals of the big cities or universities, but out of the experience of one man, usually alone, and often on horseback, who took the time he needed to think about the world and how to make it a better place.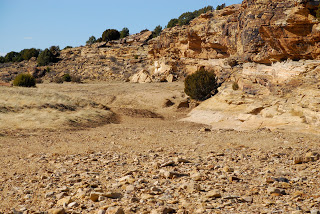 ---
Featured image: Landscape north of Clayton, New Mexico (David L. Witt)