This is the first in a series giving a day-by-day report on the expedition to Aylmer Lake in the Canadian Arctic sponsored by the Academy for the Love of Learning. The purpose of the trip was to follow the northernmost part of the Seton-Preble expedition of 1907. The two explorers traveled with two native guides. None of them had previously been to Aylmer Lake. Seton wanted to find out if it was a huge inland sea like Great Slave Lake. It wasn't nearly so vast, but from its middle, it seemed large to me.
These journal entries are just the beginning—we are planning a more comprehensive publication and exhibition for 2016. My notes will show up as several separate postings, accompanied representative images from the trip.
Notes from summer 2015. Expedition participants: Michale Lang (independent curator), Thomas Jaggers, Patty Nagle (Academy for the Love of Learning), David L. Witt (expedition leader, author of these notes, and Seton Legacy Project curator).
Ex officio: Kevin McNeil, outfitter, Aylmer Lake Lodge.
Saturday July 25, 2015

I drove from Taos to Santa Fe, spent the night at the Academy for the Love of Learning campus prior to an early morning flight out on United Express from Santa Fe airport; felt concern over travel arrangements; a flight delay could be disastrous. Must be at Air Tindi Float Plane base on time: tomorrow morning early.
Sunday July 26, 2015

Patty, Thomas and I arrived separately at the airport only to find my worst fears unrealized: Flawless flight from Santa Fe to Denver to Calgary. Some rain at Calgary, clouds, air bumps. Endless very green farm fields. Long layover between flights useful as getting through Customs took considerable time and several layers of airline and security people to deal with. Fortunately we got in the "Connecting Flights" line that saved much time [TIP: Make sure to get in this line!].
Lunch of uninspired Fish & Chips at airport Montana Restaurant. Took off again on next flight with stopover in Edmonton (we briefly got off the plane), then continued on same flight to Yellowknife, arriving on time, late evening. Immediately caught the free shuttle from airport to Explorer Hotel (good rooms & location).
No flight delays, but there could have been, so getting to YK a day earlier could have been a good plan just as insurance against air connection problems.
Met up with Michale for late night snack in the hotel bar where she met Thomas and Patty for the first time. Michale had arrived in the morning and had a fine day in YK, including making friends with visitor center manager, Tracy, who took her on a tour of the town.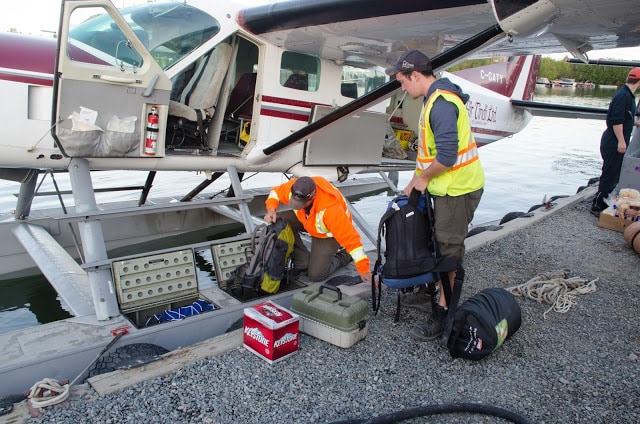 Monday July 27, 2015

Up at 4:45am. Sunrise: 4:50am. Got to float plane base on time at 5:30am as requested. $20.00 (Canadian) for van taxi: four of us plus gear from hotel.
Loading the plane took an hour: too much stuff; after much discussion left much of the groceries behind to make room for three fisherman and their gear: friends of Aylmer Lodge owner Kevin McNeil who were going up for a free week in return to making substantial repairs on the Lodge. (7 passengers + pilot)
A single-engine Cessna C-208 Caravan floatplane was scheduled to carry us; a de Havilland Canada DHC-6 Twin Otter with its larger payload capacity could carry everything (including bread, eggs, cheese, pancake syrup, etc. and a few other commodities that would be missed) but at a considerable increase in cost. The fishermen made a decision about what could be left behind when neither Kevin nor his wife could be reached. (The remaining provisions only finally arrived at the Lodge on the plane that came to retrieve us the following week.)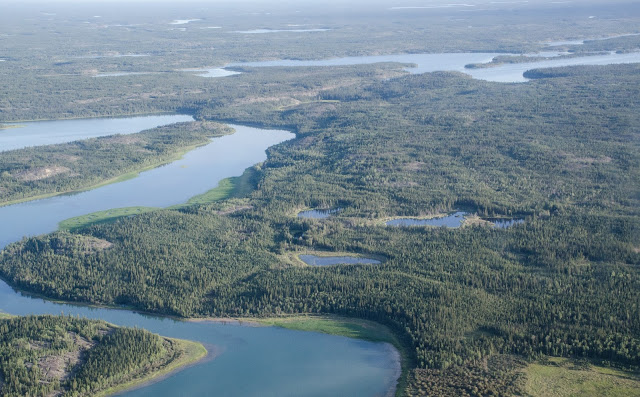 Smooth water takeoff in float plane. Noisy inside the Cessna. I began notes on my Aylmer Essay #1 noting contrasts between large and small in the North. Huge areas of Boreal forest browned and devastated from huge fires last year during cold spell. Dry this year as well but warm. The forest, burned and not-burned, monotonous to my eagle-level sight. Rocky highlands. Boggy lowlands. Browned snagged trees interspersed with fire-free green carpet of forest. Warming temperatures could have pushed forest north over the tundra, but instead, forest may actually be in retreat due to fires. Significant percentage of NWT forest burned in 2014.
Seton questioned calling this north country "Barrenlands" because of the abundance of wildlife and vegetation. But fire destruction of tundra and forest, as well as population decline of caribou around Aylmer from abundant to absent (traditionally they migrated through at this time) may make this descriptive word all too true. 
See this for more on caribou
In his book Never Cry Wolf (1963) Farley Mowat identified over hunting by aboriginal and whites as the cause, caustically criticizing the Canadian government for denying the obvious. (Not unlike American climate-change deniers.)  Sadly, Canadian government agencies continue to uphold this long discredited position. Combined with unusual ice storms replacing snowstorms in the north (caribou can't get to their lichen food through ice) one of the great animal populations of the world is disappearing with scarcely any publicity. (A week later, Yellowknife locals told me that tribal elders claim the caribou have just gone somewhere else for now. Shame on all of them for not facing facts and for wildlife organizations everywhere not panicking over the loss of millions of animal lives.)

That forest fires burn in an area that seems to be comprises of 20-50% water seems incongruous. Two diamond mine complexes spotted. Winter ice roads to the mines also disrupt caribou, but diamonds are essential to the NWT economy. Caribou are important only as a magnet for foreign trophy hunters and to traditional First Nations life. (Although foreigners getting a license to hunt caribou not so easy anymore.) The caribou will soon be gone, but diamonds are forever.  We learned that a moose had reportedly been spotted in the Aylmer region recently, an area that contains almost nothing that a moose can eat; moose are not typically tundra animals.)
Aylmer Lake Lodge is approximately 100 miles north of treeline.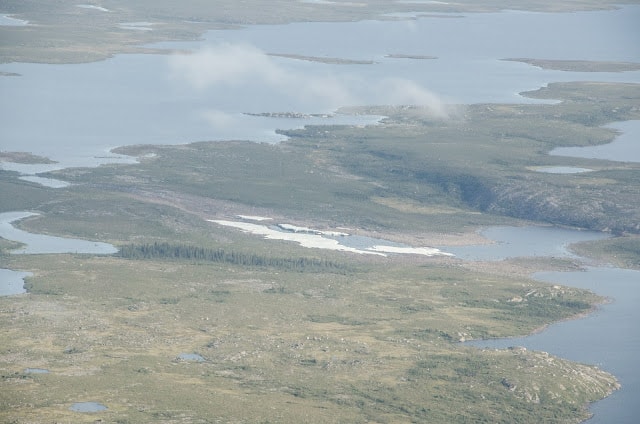 We are about 40 minutes into flight when the forest cover and tree size diminished into discontinuous stands with bodies of water increasing. 2 large white birds seen in flight over tundra (probably gulls). No mammal life spotted. Two diamond mine complexes spotted.
I spotted a stranded ice floe (difficult to tell how large) one hour, ten minutes into the flight. 


Hexagon patterns on tundra in places. Everywhere punctuated by endless numbers of lakes, from pond size to Eagle Nest Lake (New Mexico) size (maybe some larger). Aylmer significantly larger and easily identified for a long ways off.



Caleb the pilot took us to 3500' (approx. 2000' above the ground) flying us at 125 knots against a headwind. Under the right conditions, the Cessna can reach 145 knots. Take off and landing doesn't seem to require much distance. Flight began at 6:30am taking longer than average. Distance from floatplane base to Lodge approx. 190 miles. Small waves on lake didn't affect feeling of the landing (watering?).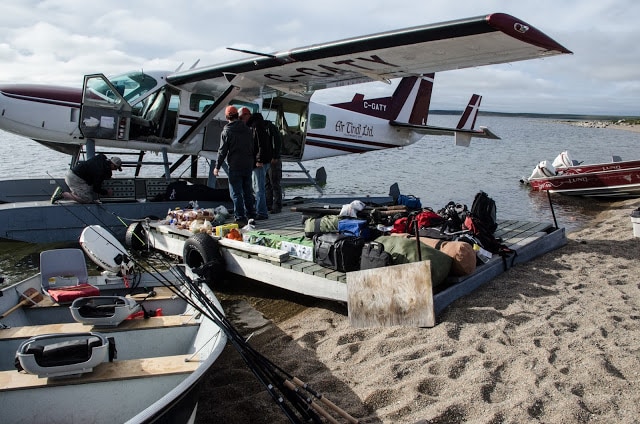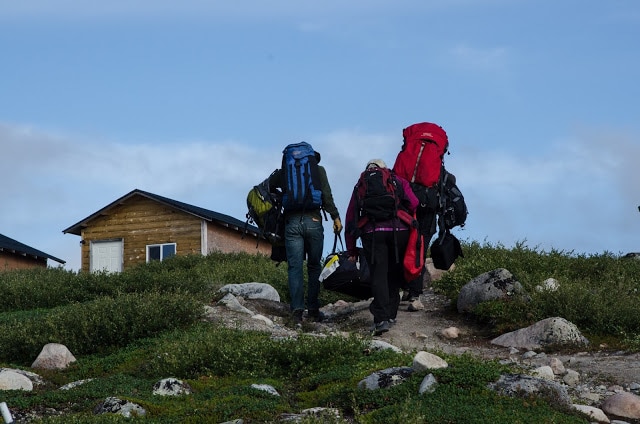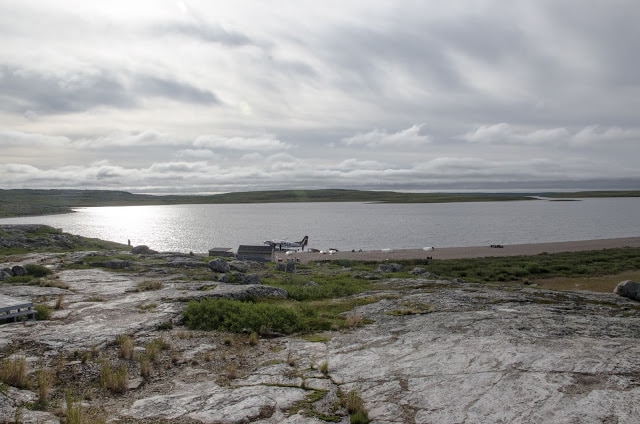 ---
Featured Image at top: Michale, Patty, Thomas, David